Welcome Message
It is our honor and pleasure to welcome you to the 7th International Conference on Otolaryngology: ENT Surgery which will be programmed in London, UK on September 05-06, 2019.
ENT 2019 with its well-ordered scientific program, expects more participants around the world to experience the best forum with communicating sessions, Keynote and plenary sessions on the current techniques in the field of ENT Surgery.
The conference theme "Valuable Insights for Advancements in Otolaryngology" inspires the foremost technological research in both academia and industrial applications.
The two-day program will focus on the emerging issues in ENT Surgery and Otolaryngology, such as head and neck surgery, otology, rhinology, pediatric surgery, facial plastic surgery, intraoperative neurological monitoring, and ENT implants.
We are glad to meet you and learn more about your professional and explore more on ENT Surgery.
We will hope you to join with us at ENT Surgery 2019.
Market Analysis
Ear Nose and Throat (ENT) or Otolaryngology is an area of medicine involving in the areas of the human body and related areas of the head and neck. The diseases include chronic ear infection, sinusitis, snoring and sleep apnea, hearing loss, allergies, and hay fever, swallowing disorders, nosebleeds, hoarseness, dizziness, and head and neck cancer. ENT specialists have specific tools for their specialties as well as using general surgery instruments and devices. Most commonly used products of ENT are debriders, blades, curettes, hook, mobilizer, burrs, suction probes, retractors, and picks.

The ENT devices market was price USD 14.35 billion within the year of 2012 and is predicted to succeed in roughly USD 27.63 billion by 2022, whereas registering itself at a compound annual rate of growth (CAGR) of 6.07% throughout the forecast amount. Developing predominance of disorders connected aging, as an example, loss of hearing and reduction in operating levels of ear, nose, and throat, is relied upon to drive the ENT devices to trade over the figure timeframe. The increasing age likewise prompts reduced levels of immunity creating people additionally inclined to diseases, as an example, an inflammatory disease due to true bacteria contamination. As per the Action on hearing disorder data, quite ten million people within the UK or one out of each six persons knowledgeable loss of hearing. Out of those, 6.4 million people were within the people of 65, or additional and 800,000 million people know about an extreme hearing disorder. Rising levels of awareness concerning health care among patients and professionals, rising implementation rates of hearing aids and impairments due to the advancement of aesthetic things and developing the pattern for nasal correction procedures area unit anticipated assisting the event of the market over the figure timeframe. Advancements in technology and the implementation of fabric that's easy in production area unit some factors anticipated to assist the ENT devices trade development over the figure timeframe.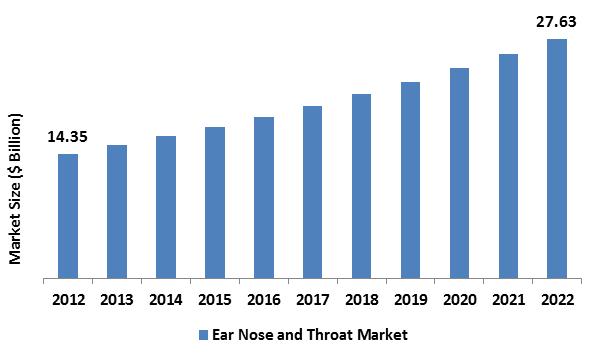 ENT Devices Product Overview
1. Diagnostic Ear, Nose, And Throat (ENT) Devices
Rigid Endoscopes
Rhinoscopes
Laryngoscopes
Otological Endoscopes
Flexible Endoscopes
Robot-Assisted Endoscope
Hearing Screening Device
2. Surgical Ear, Nose, And Throat (ENT) Devices
Radiofrequency Handpieces
Powered Surgical Instrument
Otological Drill Burrs
ENT Hand Instruments
Tympanostomy Tubes
Sinus Dilation Devices
Nasal Packing Devices
3. Hearing Aids Ear, Nose, And Throat (ENT) Devices
Behind-the-Ear (BTE) aids
In-the-Ear aids
Receiver-in-the-Ear (RITE)
Canal hearing aids ITC, CIC, and IIC
4. Hearing Implants Ear, Nose, And Throat (ENT) Devices
Auditory Brainstem Implants
Cochlear Implants
Middle Ear Implants
Bone Anchored Hearing System
5. Nasal Splints Ear, Nose, And Throat (ENT) Devices
Internal Nasal Splints
External Nasal Splints
Regional Perspective of ENT Devices
• North America
• Europe
• Asia Pacific
• Latin America
• Middle East & Africa
Companies associated with ENT:
Siemens Healthcare
Widex A/S
Atos Medical AB
Starkey Laboratories Inc
GN ReSound A/S
William Demant Holding A/S
Sonova Holding AG
Cochlear Limited
Rion Co
Welch Allyn
About Conference
ENT 2019 highlights the theme, 'Valuable insights for advancements in Otolaryngology'. This conference covers a huge range of new techniques that related to ENT surgery and otolaryngology. This event is designed to collaborate the researchers, physicians, ENT surgeons, scholars, educators and students to present and deliberate the modern novelties, trends, and concerns practical challenges and solutions adopted in the concerned field.
Otolaryngology is the study of medicines that related to ear, nose and throat. Doctors who specialised in this study are called otolaryngologists or ENT surgeons. The sub-specialities in otolaryngology are; head and neck surgery, pediatric ENT, facial reconstructive and cosmetic surgery, otology, rhinology and laryngology. There are many different types of devices and navigation systems are used for diagnosis, treatment or surgical methods that related to otolaryngology. These are all helps to overcome the problems related to hearing, smelling and speaking. There is an extensive range of devices available in the market including ENT endoscopes, powered surgical instruments, hearing aids, hearing screening devices, hearing implants, balloon sinus dilation devices, CO2 lasers, image-guided surgery systems, vent tubes, and voice prosthesis devices.
Scope and importance
The event ENT 2019 endeavors to gather the incredible pool of researchers and surgeons to perceive the participants with their recent technological skills in the field of otolaryngology. It is a unique platform to generate and discuss the new ideas for the treatment of ENT disorders.
Target audience
ENT surgeons
R&D companies
Healthcare companies
Students
Researchers
Scientist
Physician
Research scholar
Life science investors
Clinical researchers
Policymakers